It has been three months already since I took up this challenge. Just like yesterday, how time flies.
I resumed at Crop2Cash on a chill Monday morning, dressed up in my grey suit, white shirt and necktie – my standard weekday dressing for the previous seven years as a banker. I was all prepped for the traditional Monday meeting. The astonishment on the faces of my new colleagues was too obvious – like, "Is this guy an alien or something?" LOL. It quickly dawned on me that I was in a massive transition. I'm a Tech Bro now, and my official wears now are denim trousers and polo tops.
Fast forward to the introduction session. The reception was warm and very welcoming; I loved the culture immediately. The thought resounded in my head, "Welcome to the other side of the divide!"
Joining the team as the Head of Growth & Marketing, work started immediately – no room for dilly-dallying. I officially met with the CEO, Michael Ogundare, and other co-founders, Emem & Seyi. Their expectation was succinctly communicated, whilst handing me operating independence – in Michael's words, 'Itunu, do your thing; there's money, bring growth.' I laugh at this always because I came from a culture of cost containment, where the mentality was a lot about cutting costs but this manner of reasoning in me changed immediately.
The first week was a bit about research, strategy and documentation. I had to come up with a robust Growth Strategy document. It was some task for me, but it eventually developed one of my best ever documents, through the direct guidance of Michael and the other co-founders.
At this point, you may wonder what "the platform" or what Crop2Cash as a whole is about. Simply put, Crop2Cash is building the Farmers' Bank. At Crop2Cash, we are creating the financial digital footprint for smallholder farmers in a bid to make them financially inclusive.
This financial inclusion is achieved via the USSD code *347*46#. We have over 70m active mobile line owners in Nigeria presently without a bank account, as of January 2021, internet penetration in Nigeria stood at 50.1%. How do we reach the other 49.9% that fit our target of smallholder farmers? We opted for the USSD option because of its far-reaching effect and also to conveniently capture our target market. Smallholder farmers living in the innermost hinterlands with no internet penetration, barely living on $2 per day and finding it difficult to afford a smartphone love the USSD direction. On the *347*46# platform, farmers get to order farm inputs, fertilizers, insurance, mechanization, advisory services, amongst others.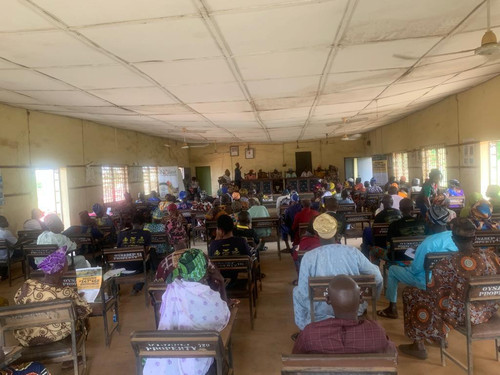 Upon registration with their Bank Verification Number (BVN), an account is automatically opened for the farmer, which they use in carrying out transactions. After a period of 3-6 months of activity on the platform, a farmer is pre-qualified for a loan which makes it all the more interesting.
In the last 6 weeks, the team and I have been to 26 LGAs and it has been a whole lot of experience with the people, culture, food and most importantly the poverty level. Most of the places visited so far are traditional, primitive and historical towns and villages with various mythical beliefs and ideologies. One of the exciting experiences was actually meeting people who are traditional worshippers and getting to pray in Ifa/Obatala. It was quite interesting to me because I only saw these in movies growing up. The people are mostly friendly and welcoming and they always do everything to make sure the team and I have a near-perfect experience during our stay in the villages.

The food! Awesome!! I enjoyed this bit a lot because anytime I prepare for these trips, I know I'm adding some KGs before coming back despite the huge work and responsibility to be carried out. I never get to miss my Amala, ewedu and grasscutter meat in all the villages and towns I've been to over the months. The poverty rate is actually very high in these places and I now believe the statistic that insinuates that most Nigerians live on less than $2 per day. Most of these farmers trek long distances especially from the farms to their homes, only the 'rich' amongst them have motorcycles and we could barely see cars on the roads.
We were a bit apprehensive when we started these trips based on the insecurity culminating from the herders/farmers but this apprehension really reduced when we saw various security outfits (majorly Amotekun) in these towns and villages and this has also given the farmers a lot of confidence to go about their business without fear.
Smallholder farmers in the southwest especially Oyo state major in Cassava, Maize, Cashew, and vegetable cultivation but they do it in bits due to lack of funds, education and support. Every time I leave a village after the workshop/training/sensitization, I personally think of so many ways the lives of these smallholder farmers can get improved.
One of these is proper education, these farmers are barely educated about what they do and this formed a major part of why Crop2Cash is going to the trenches to meet with them and educate them on the best agricultural practices and also creating a digital marketplace for them.
Another major problem is the market. After harvesting, most of these farmers get to sell their produce at ridiculous prices due to lack of proper storage, financial leverage amongst others, we have been able to solve this by providing linkages to off-takers for these farmers who get these produce off them at great prices.
So far, the team and I have been to 26 LGAs in less than 60 days, and it has been an absolute experience. We are excited to do this every time, as the feeling of having a positive impact on smallholder farmers, creating a powerful profile for them, helping them with their day-to-day farming transactions, creating digital footprints for them, and ultimately unlocking the credit they need amongst other value-creating activities, is deeply satisfying.
In October alone, we grew by 1,100% in terms of acquisitions and about 560% in terms of completed transactions. This has been a big feat and a huge motivation for us to keep growing. In November, we grew the October base point by about 150% in terms of acquisition and 1,500% in terms of completed transactions.
With Crop2Cash in sight, it's eldorado for millions of smallholder farmers. The future looks very bright already as the Agritech space has been begging for this type of digital finance and marketplace for a very long time now.
Working at Crop2Cash has been very exciting and it has been such a delight working with a group of kind, hardworking and loving young folks, who try daily to make life easier for our smallholder farmers